A LIFE THROUGH ART
Faliha Kadhim Elradhi uses a wide range of materials and techniques to achieve here deeply moving works including oils, pastels , oil crayons and china inks.

---
2008 – HORSE & BAMBOO PRODUCTION
Europe's leading visual theatres companies
A modern theatre play depicting a story that crosses two generations but also draws on a more ancient history. Faliha Kadhim participated in this produciont as the part of the cast, at which given the role of 'story consultant' and also took part in the play as the 'narrator'.
2008 -"IRAQ'S ERA OF DARKNESS TO THE RAYS OF DAWN"
Huddersfield (1st Feb-3rd Mar)
2007- KUNSTSAMMLUNG NEUBRANDEBURG
Huddersfield (1st Feb-3rd Mar)
Neubrandenburg, Germany
On the 18th April to 10th June I exhibited six pieces of my work with a collection of other artists from the Blackburn Museum & art Gallery. This is my first exhibition in abroad in Europe and will be part of a touring exhibtion of artists from Blackburn and Darwen.
2006 – BLACKBURN MUSEUM & ART GALLERY
Darwen, UK
An exhibition entitled 'Making Connections' which included six pieces of my artwork, this took place from 13th May to 29th July. This exhibition focused on contemporary art from Blackburn and Darwen
2005 – BEARDWOOD HIGH SCHOOL
Blackburn, UK
I did a workshop at the school for a total of 5 hours, which involved talking to young adults (aged between 14 and 15 years old students) on my experience as an artist and teaching them the techniques I developed over the years producing my pieces of art. I showed the students some of works and answered their questions.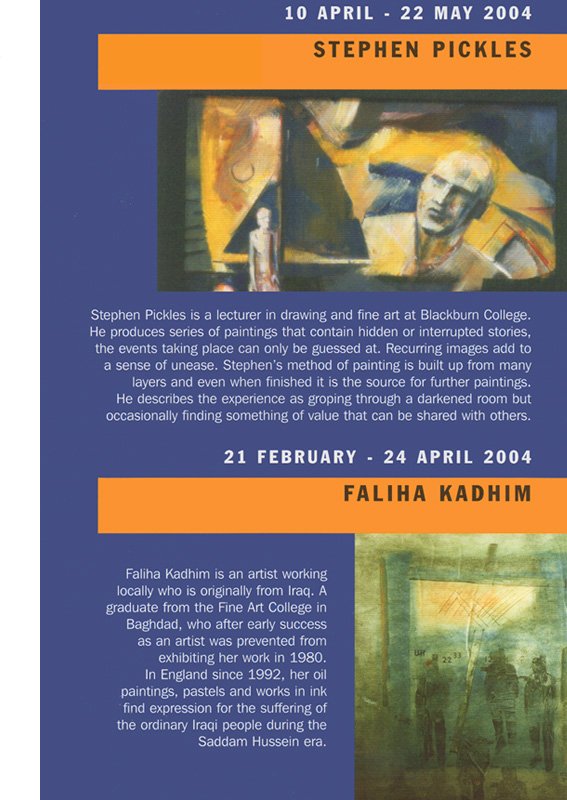 2004 – BLACKBURN MUSEUM & ART GALLERY
Blackburn, UK
A paired exhibition with a fellow artist Halima Cassell, which took place from 21st February to 24th April. I exhibited 45 pieces of my works, which also included 12 pieces of glass artwork.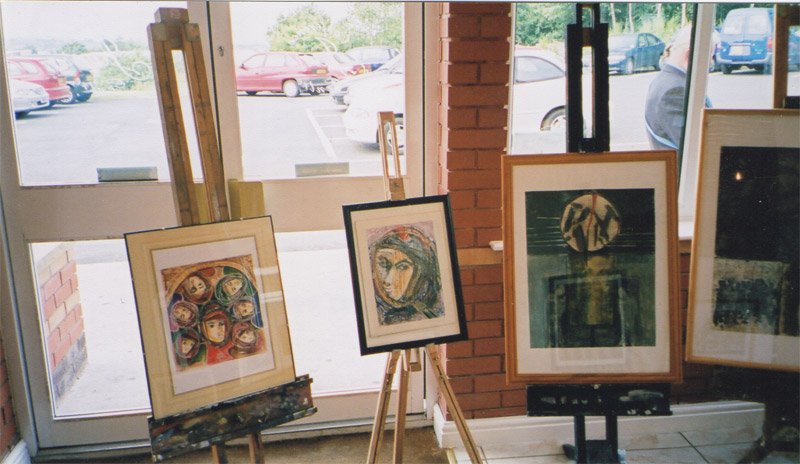 2003 – JAN'S CONFERENCE CENTRE
Blackburn, UK
A conference where I was able to exhibit my work on the 26th June in the light of a birthday celebration of Women's achievements. I exhibited 14 peices of artwork; it was attended by many educational representatives of the Blackburn and Darwen Borough's.
1999 – HAWORTH ART GALLERY
Accrington, UK
An Annual Open Art Exhibition which was held from October 30th to December 12th. At this exhibition, two of my paintings were on display.
1997 – CHELTENHAM AND GLOUCESTER ART GALLERY
Cheltenham & Gloucester, UK
One of my artworks was selected to be hung at an Open Drawing Show Competition which ran from the 8th to the 22nd September. The exhibition was later transferred to the Gallery at the University of Humberside.
1996 – AL-KUFA GALLERY
London
1995/6 – SUNNYHURST WOOD GALLERY, DARWEN
1994 – IRAQ CULTURE & COMMUNITY MAC, BIRMINGHAM
1973-1980 – MEMBER OF IRAQI FINE ARTS
Graduating in Iraq, Baghdad in the field of fine arts, I endeavoured to create art work during and after my university education.